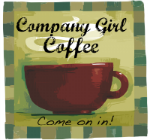 I'm pretty content with my day so far. I baked a blueberry pie, some low-carb peanut butter cookies and some pancakes, and shared them all. I also swept the whole downstairs and did all the dishes... twice! The pie and cookies are for a family in our church who recently lost their husband/stepdad. The pancakes were our breakfast, but my friend came over with her daughter to help us eat them. That was fun, but not in a lighthearted way it normally is. We talked about some heavy stuff. She and her husband are struggling financially-- it's this darn economy rearing its ugly head again! Anyway, if one of them can't find a job soon, they may have to move, splitting up their family, just like my parents did, and I'm a witness to that not being a good idea for any marriage, not to mention a couple with a young child. So we talked and hugged and laughed and tried to brainstorm solutions. I got her hooked up with some of my favorite sites:
Freecycle
, and Craigslist jobs. I'm praying and hoping that they can stay, because as our two daughters (born the same week) grow closer, so do we. She is definitely one of my best friends at this point.
I keep trying to think of verses to encourage her, but I keep drawing a blank. I'm not sure if they're believers or not... they don't attend a church anywhere at least. All the verses I can think of apply only to believers as far as I know.
"

For I know the plans I have for you," declares the Lord, "plans to prosper you and not to harm you, plans to give you hope and a future."

Jeremiah 29:11
"

But those who hope in the

Lord

will renew their strength. They will soar on wings like eagles; they will run and not grow weary, they will walk and not be faint."

Isaiah 40:31
Those verses have always been encouraging to me when the future was uncertain. But can someone who has not yet given their life to the Lord take hope from them as well? I think so... what do you think? I think especially the first one can apply to anyone, because God's hand is over everything, and He plans for both the believer and the nonbeliever.
Anyway... (Sorry, I'm a bit distracted right now. The kiddoes are running around like manic midgets!)
So potty training is going well! Baby has gotten to the point where she has pretty much started going to sit on the potty on her own when she feels like she has to go. I've only cleaned up one pee-puddle today (I'm probably jinxing it by saying that). She hasn't gone #2 in there yet at all, though, so I'm still kind of in limbo with regard to buying her big-girl panties. We're going RV camping with the in-laws this weekend, so I'll probably make a stop at the local Walmart sometime tomorrow to buy her some, provided she keeps going in the potty. Cross your fingers! (And please say a little prayer for us! The RV is partially carpeted, and I'm nervous.)
Anyway, I definitely ran out of my 5-minutes about ten minutes ago, so I'll wrap this up and get back to trying to figure out how to download my audio-book from the library:
Miss Peregrine's Home for PeculiarChildren, by Ransom Riggs
. I've already read the first three chapters, and it is awesome so far! Looking forward to listening to it on the way down to Virginia tonight.
Good grief! Tonight! I need to pack! Eesh! ::scrambles off to find clean clothes::